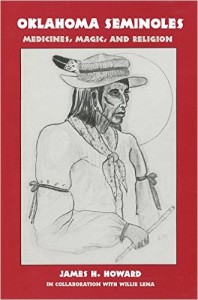 Mention the name Seminole and most Americans think of the Florida segment of the tribe—Indian men in colorful shirts poling dugouts through the black waters of the Everglades and women sewing patchwork in palmetto-thatched chickees. But another Seminole population, much larger in numbers, lives in the prairie and scrub oak hill country of Oklahoma.
Studies of the Oklahoma segment of the tribe have been few, and James H. Howard's objective in writing this book has been to record the richness of Seminole culture in the West, presenting that culture as it is seen and interpreted by its more traditional members in Oklahoma today.
Much of the Seminole culture is held in common, but many differences have grown up between the two groups since the "Trail of Tears" separated them in the 1830s. This does not necessarily mean greater acculturation to white ways by the Oklahoma Seminoles. In some instances the Oklahomans are the more traditional, in that they retain cultural forms mentioned in early records but long forgotten in Florida.
Howard documents contributions from many persons, but the greatest amount of information came from Willie Lena, a Seminole town chief who lives in Wewoka, Oklahoma. Born in 1912 and reared by his conservative grandparents, Lena was shielded from the white culture during his childhood and carefully trained in Seminole ways and values. Recognized since his youth as a traditionalist leader, Lena has a lively intelligence, artistic talent, and a warm personality that have led him to serve as an enthusiastic ambassador of his own culture both to the younger generation of Seminoles and Creeks and to non-Indians as well.
In a detailed report of Seminole culture as it is found in Oklahoma today, Howard has included chapters on herbal and non-herbal remedies, magic and witchcraft, supernaturals, the Green Corn Ceremony, the nighttime dances and other ceremonials, sports and games, mortuary practices, and other aspects of the Seminole world. Based on firsthand information and extensive fieldwork, Howard's descriptions are appealing and immediate. He also displays extensive knowledge of the related literature, and parallel material recorded in earlier sources is often cited for comparison. Lena's illustrations add further interest and authenticity to the book.
Seminole culture, with its unique attitudes and beliefs and distinctly Southeastern Indian worldview, has persisted in spite of more than four hundred years of exposure to European and American culture. It is quite clear from the material presented in this book that there will continue to be American Indians in Oklahoma who proudly call themselves "Seminole" for many years to come.