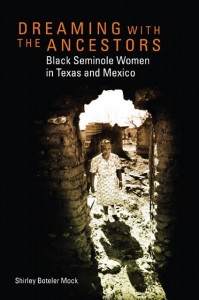 Indian freedmen and their descendants have garnered much public and scholarly attention, but women's roles have largely been absent from that discussion. Now a scholar who gained an insider's perspective into the Black Seminole community in Texas and Mexico offers a rare and vivid picture of these women and their contributions. In Dreaming with the Ancestors, Shirley Boteler Mock explores the role that Black Seminole women have played in shaping and perpetuating a culture born of African roots and shaped by southeastern Native American and Mexican influences.
Mock reveals a unique maroon culture, forged from an eclectic mixture of religious beliefs and social practices. At its core is an amalgam of African-derived traditions kept alive by women. The author interweaves documentary research with extensive interviews she conducted with leading Black Seminole women to uncover their remarkable history. She tells how these women nourished their families and held fast to their Afro-Seminole language — even as they fled slavery, endured relocation, and eventually sought new lives in new lands. Of key importance were the "warrior women" — keepers of dreams and visions that bring to life age-old African customs.
Featuring more than thirty illustrations and maps, including historic photographs never before published, Dreaming with the Ancestors combines scholarly analysis with human interest to open a new window on both African American and American Indian history and culture.