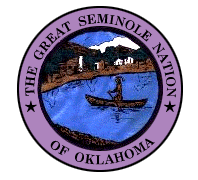 Tidmore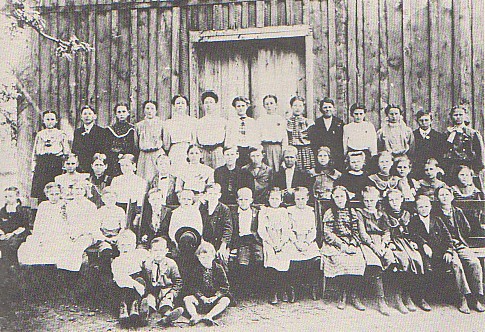 Tidmore, I. T. - 1906 Class - Miss Lou Grisso, Teacher
Tidmore, a settlement in the Seminole Nation, developed in the early 1890's and was the service center for the Seminole Indians,
Seminole freedmen, and whites living nearby. A few small stores, a bank, and a lumberyard were the principal business activities.
A one teacher school served the community.
In 1891 the Seminole nation approved the construction of Mekasukey Academy about two miles from the village.
The materials to be used in building the structure were sent to a 'Mr. Tidmore,' probably the contractor constructing the school,
who lived in the village. As a result, the settlement became known as Tidmore.
In 1895 the Choctaw, Oklahoma and Gulf Railroad (Rock Island) extended its tracks through the area but refused to build into Tidmore.
The village was located on low-lying and often muddy land near Wewoka Creek, a site not desirable for rail locations.
A depot, called Seminole was located two miles east of Tidmore; thus, the village of Tidmore gradually moved eastward to the railroad.
A post office from May 17, 1902 until February 6, 1907.
The bank, a general store, and the lumberyard were the first to change location.
No part of Tidmore now exists. Mekasukey Academy was closed in 1930, and later the building was torn down.
©2001 - Present
Linda Simpson