Warriors Earthly Vigil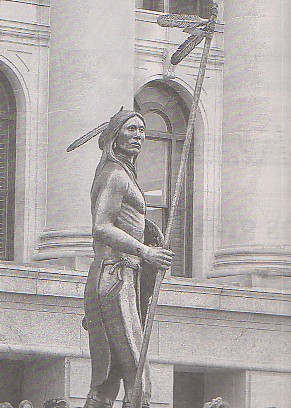 Visitors gather at the base of "The Guardian" which is available for viewing at the state Capitol. The statue is scheduled to be place Friday by crane atop the Capitol's new dome.
Oklahoma will become the only state to have an American Indian statue atop it Capitol.
Oklahoma also will be the last state in the country to build a dome on an existing capitol structure.
Jesus Perez will climb 20 feet through a narrow tube Friday to secure a piece of Oklahoma's heritage that will stand for the next 100 years. Perez, 40, said it is an honor to be chosen to complete the task, and it's something he plans to tell his grandchildren about in the future.
State Senator Kelly Haney, D-Seminole, who created "The Guardian," said he thinks it is fitting for the sculpture to be secured by an man who has worked so long on the project. Haney said all Oklahomans can take part in the event by attending Friday's ceremony.
"So many Oklahomans, young and old, have been involved from the beginning to end (of the project)," he said. "And it is important that all Oklahomans are here for this historic event."
©2001-2002 Linda Simpson

02 Aug 2015