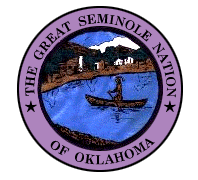 Seminole Nation Elementary Schools
School No. 1
Taught by Miss Mary M. Lilley, average attendance was 35 students for a seven month term.
School No. 2
Taught by John R. Ramsey with an attendance of 30 students.
School No. 3
Near the Old Seminole Agency, sparsely settled, ran for 3 months with an average attendance of 25. Taught by Mrs. H. C. Shook.
School No. 4
Taught by Charles Anderson, average attendance was 27 students for a six month term.

On September 22, 1906, Superintendent Benedict sent to the Commissioner of Indian Affairs a list of the fifteen Seminole day schools that were in operation with the length of term and the teacher's salary for each school.
Name of School

Term

Monthly Salary

Year Total

Brown

8 months

$45

$360

Carr

7 months

$40

$280

Good Hope

8 months

$40

$320

Jarvis Ranch

7 months

$45

$315

Macedonia

8 months

$40

$320

Rocky Point

8 months

$40

$320

Red Mound

8 months

$45

$360

Sasakwa

8 months

$45

$360

Seminole Union

8 months

$45

$360

Tate

8 months

$45

$360

Tidmore

8 months

$40

$320

Tidmore (colored)

8 months

$40

$320

Wewoka

8 months

$50

$400

Wewoka (colored)

8 months

$45

$360

Wolf

8 months

$40

$320
Seminole Miscellaneous Documents, Okla. State Archives, Doc. 39538-A
©2002 - Present
Linda Simpson

02 August 2015