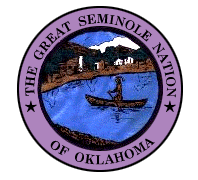 Hvteyievike Band
This Band is also referred to as the Newcomer Band.
They were the last band to arrive from Florida during the removal period under the leadership of their Band Chief John Chupco, also called 'Long John'.
They carried with them to the sacred medicine bundle to Indian Territory.
Among the longtime leaders of this Seminole Band included Concharty Micco, John Chupco, Carpitchoche and Simon Brown
for whom the Band was named prior to the Dawes Commission of 1887.
During the Civil War the Seminole Nation became divided and John Chupco became the Principal Chief of the Union faction of Seminoles.
He served as a sergeant in the loyal Indian Regiment of the Union Army.
As a Principal Chief he was noted for rigid enforcement of Seminole law and for his energetic, practical and incorruptible administration.
Among the notable women of this band includes longtime General Council Representative and first woman band chairperson Marie Hall
and Rina Coker the Seminole girl who made the journey from Florida on the 'Trail of Tears' to Indian Territory.
She grew into a respected elder and told many stories from that era of Seminole history.
©2001 - Present Linda Simpson

08/02/2015