George Rollin Davis
April 7, 1849 - December 13, 1919
George was born in Pleasant Hill, IN, the son of Jeremiah Smith and Rachel Naomi Griffin Davis.
In the 1850's his family moved to Jefferson Co., IA, but only stayed there a short time before settling in LeRoy, Coffey Co., KS.
About 1870 George headed for Indian Territory and went to work in the store of J. E. Turner at Okmulgee.
He was sent to the Seminole Nation to buy furs and pecans, and at Sasakwa he met Alice Brown.
They were married 20 Jan 1873 in Okmulgee at the home of Rev. Sam Checote who performed the service.

George and Alice returned to the Seminole Nation in 1882 and established a ranch and trading post in northern Seminole Co.
near the Canadian River which they called Arbeka, a Creek word meaning "peace town."

George and Alice had the following children:

George Lytle, Clara Estalla, Jesse Edwin, Laura Myrtle, Ella Maye (Eleanor), Flora Maude,
Elizabeth Marguerite, Irene Genevieve, John Frippo, and Andrew Jackson. Their first child, Katie Jane, died in infancy.

The Davis's lost much of their land around the turn of the century when the federal government broke up the large ranches in the area.

In his later years, George worked as a Deputy Marshall and Justice of the Peace near Paden, OK.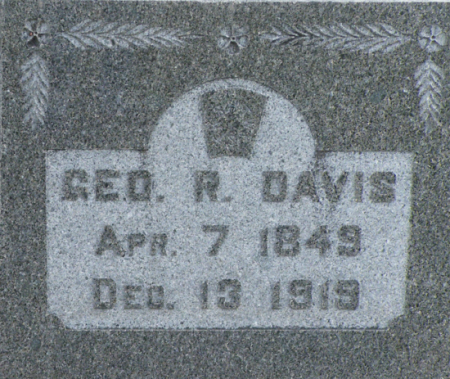 Highland Cemetery
Okemah, OK