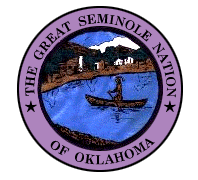 Fushutche Band
(Bird Creek)
Fushutche Band was originally Fushutche Town, an old Upper Creek Town appearing on maps as early as 1733.
A small band was noted in northern Florida as early as 1778. Fushutche Town migrated to Florida between 1814-1815,
joined other Indian tribes and became known as the Seminoles.
While in Florida, Fushutche Town became a Band and was represented on the Seminole Tribal Council.
During the Second Seminole War, they were removed to Indian Territory and eventually in 1845, settled in the southern part of the Seminole Nation.
To this date, Fushutche Band continues representation on the General Council of the Seminole Nation of Oklahoma.
Band Chief/Chairman
(1836 - )
Tastanakochi, Tastanak Kochokeni, Short Bird, Ahalakochi, William Connor, Marcy Cully, Hazel (Wood) Larney (present)
General Council Representative
(1969 - )
Marcy Cully, Tony M. Palmer, Sr., Jackson Tiger, Ida (Harjo) Harjo, Roy Wood, Susie (Cully) Petete, Danny J. Hooper,
Mickey W. Davis, Tony Davis, Symathia (Palmer) Hooper.
©2001- Present Linda Simpson

08/02/2015